Two Covington neighborhoods
virtually crime free
Trying to figure out why West Covington/Botany Hills and most of the Licking Riverside District have low crime stats. Shows reported crimes over the past week. Any insights? Facebook >>
---
Work begins on latest mural for downtown Covington
BLDG on Pike Street announces "FAILE: Around the Corner," a large scale art installation, now underway off Sixth Street near Madison Avenue.
---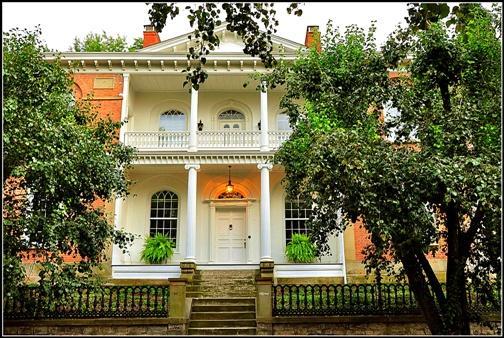 Carneal House finally sold
Looks like the historic Carneal House has finally been sold after being on the market for years. Asking price was $2,499,000.
---
Rowing on the rivers
Members of the the Cincinnati Junior Rowing Club can be seen paddling the Licking River on weekends.
---
Fidelity Investments continues to reduced Covington workforce
Meant to happen over a 18 month period, Fidelity Investments continues to reduce staffing levels at its Covington campus.
---
Shareholders approve sale
of Time Warner to Comcast
Time Warner Cable shareholders on Thursday approved the planned $45 billion takeover of the company by Comcast. Comcast will then sell the local system to Charter Communications.
---
Facebook post tells of yet another assault in downtown Covington
Downtown Covington worker was allegedly held up by gunpoint at 5th and Greenup on Wednesday.
---
Bedbugs at state services
offices in Covington?
People visiting the offices of KY Cabinet for Health and Family Services offices at 19 E.Pike Street, took to Facebook to complain that the place is filled with bedbugs.
---
Covington alleged rapist captured; another still on the run
Jameel Mason, one two suspects police have been looking for, alleged to have raped a minor, was arrested last evening. Deyshawn Perry is still at large. Both lived in Covington.
---
---
previously /
---
Work progressing on new
wall at Devou Park entrance
Workers contracted by the City of Covington continue to build a heavy-duty wall near the entrance to Devou Park on Western. Photos by Jason Miller.
---
Bedbugs at state services
offices in Covington?
People visiting the offices of KY Cabinet for Health and Family Services offices at 19 E.Pike Street, took to Facebook to complain that the place is filled with bedbugs.
---
Sixth District enjoy outing at Banklick Creek, despite weather
Despite the the wind and the rain, these brave 5th graders from 6th District Elementary hopped into the Banklick Creek and collected a whole school of fish! Photos by Ohio River Foundation.
---
Enquirer catches up
on Meinken Field story
We had it last week, that Covington schools was buying it from the city.
---
Police pull women's
body from Ohio River
A woman's body was pulled from the Ohio River on the Cincinnati side last evening after being spotted near the Brent Spence Bridge Monday night.


---
Enquirer claims there's an 'outcry'
about old brewery building
A public outcry over the possible demolition of the historic Bavarian Brewery building is taking place in the form of a petition drive.


---
Subject of new 'Kill The
Messenger' movie lived in Covington
Long before Gary Webb became one of the country's most revered – and then reviled – investigative reporters, he was infamous in Covington's Old Seminary Square neighborhood for shooting a guy in the butt.
---
Gateway College breaks ground for cosmetology, massage center
When opened in the spring of 2015, the center at 440 Scott Blvd. will house Gateway's Cosmetology and Massage Therapy programs in the same location for the first time. The programs will continue to offer cosmetology and therapeutic massage services to the public.
---
Braxton Brewery continues to depend on the kindness of others
Braxton Brewery, which hopes to open on Seventh Street, shows off its donated sign. Currently seeking donations online, two things we'd already told you about.
---
Grateful Grahams owner organizes Covington festival
A new festival featuring music, food, art and other activities is taking place in October. Grateful Grahams owner Rachael DesRochers created the Good People Festival in an effort to create an all-ages, family experience.
---
Short-lived Wedding Mall
will be a part of hotel
A little bit of good news for downtown Covington. The failed and short-lived Wedding Mall building will become a part of the new Hotel Covington complex. The hotel was announced two years, although no overt work has begun on converting the old City Hall.
---
Meinken Field being sold to Covington school system
Covington Independent Public Schools is buying Meinken Field from the city for $28,000. Holy Cross Catholic School will still be allowed to use the baseball field.
---
City to settle suit by pedestrian struck by police cruiser
The city has decided to settle a lawsuit by Jeffrey Keeney who was struck by a police cruiser on Madison Avenue in 2013. Settlement amount not disclosed..
---
Covington could learn something
from Lower Price Hill
Both Covington and Lower Price Hill have poor education stats and high poverty rates but LPH just took a big step.
---
Madison Avenue store will have a
moving sale before leaving
HomeStyle, a new retailer in challenged downtown Covington, will have a moving sale before closing the store. It's owner said the store will close because "screaming white trash" outside.
---
Suspect sought in Independence stabbing
Independence police are looking for a man in connection with a Thursday morning stabbing..
---
More news headlines >

Facebook: News from all around Northern Kentucky >
Our multitude of neighborhood Facebook pages in Northern Kentucky have all the news.


national notations /
---

'Things began to go
wrong 10 to 12 seconds in'
A rocket carrying supplies to the International Space Station blew up shortly after liftoff Tuesday night.


---

Pope says 'God is not divine' and
'not a magician with a magic wand'
The pontiff made a controversial declaration on Monday while giving a speech about science and the origins of human life.


---

For woman on street,
walking is a challenge
Shoshanna Roberts used a hidden camera to expose the daily harassment women in the city face from catcallers.


---

Nurses open up about
caring for Ebola patient
Three caregivers describe the dramatic scene inside the hospital where America's first victim of the disease eventually died.


---

Walmart under fire
for 'fat girl' costumes
Shoppers were aghast when they saw the Halloween section name on the retailer's website.


---

US economy hinges
on just one product?
According to one expert, the direction of the entire American economy follows one company -- and its most popular product.


---

Marital issue that will
harm children the most
Managing a family is never easy, but this issue can be especially painful for your little ones.


---

Residents in uproar
over restaurant name
Protesters have asked a Colorado restaurant to change its name -- but the owner won't budge.


---

Two 1960s cold cases
cracked wide open
Last year, two cars were found submerged in an Oklahoma lake -- and now police are reporting the contents.


---

Cowboys owner explains
why Sam was cut
Jerry Jones said releasing openly gay rookie Michael Sam earlier this week was 'the best thing for the team.'


---

It's the best new
car deal out there
Our experts researched the best offers on brand new vehicles -- and this popular ride is currently selling at the biggest discount.


---

How long can Ebola
live on a surface?
As Ebola spreads, everyone is wondering -- how long can the Ebola virus live on a surface like a subway handrail?


---

'Honey Boo Boo' canceled
over sex abuse
Mama June's alleged relationship with a convicted child molester has brought the show to a sudden end, TLC said Friday.


---

Ottawa shooter's mom:
'We are sorry'
Police have confirmed that Zehaf-Bibeau acted alone in his deadly shooting rampage Wednesday.


---

More disturbing insight
surfaces on Indiana killer
Police say there were signs years ago of violence against women by Darren Vann, who confessed to killing seven women in Indiana.


---

Historic discovery made
off NC coast
Scientists used sonar to uncover a forgotten piece of history that could have altered U.S. existence.


---

HK protestors remain
fired up as talks go on
In an unprecedented televised meeting Tuesday, student leaders passionately explained why they had taken to the streets in Hong Kong.


---
Buffett slammed for
giving bad financial advice
---
Five problems McDonald's
is facing in the US
---
More bad news
plagues NFL's Michael Sam
---
Venomous threat in
bushel of bananas
---
Significant shift made in
fight against ISIS
---